Today we released a new version of TwInbox – 2.0.1.112. This release includes one frequently requested new feature – an ability to send new-style retweets.
New-style retweet support
When you select a tweet and click the RT button, you will see a dialog which will let you select between the new-style and old-style retweet. It looks like this: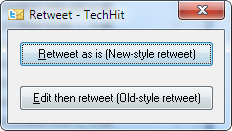 Next time you click RT, this window will remember your previous selection, so you can simply hit Enter.
Note that this retweet type selection window is only shown when you retweet tweet messages. If you hit the RT button when a regular message is selected, you will see the old-style retweet. This is because only tweets can be retweeted using the new-style RT.
Download TwInbox  (version 2.0.1.112).
We are looking forward to your feedback
As always, we are looking forward to hearing your feedback.  If you enjoy using TwInbox, please show your support by telling your friends about it. Thank you for your continued help and support in making TwInbox a success!
Do not forget to follow @TechHit to receive update notifications.
Do you have too many messages in your Inbox? Try SimplyFile  – Intelligent filing assistant for Microsoft Outlook.