Today we released a new version of TwInbox – 2.0.1.111. This release includes several small but important usability-enhancing features.
Selecting recipients and hash tags
TwInbox will remember sender names and hash tags for all messages you receive. The "Post a new Tweet" window now has buttons for picking recipients and hashtags using convenient selection dialogs.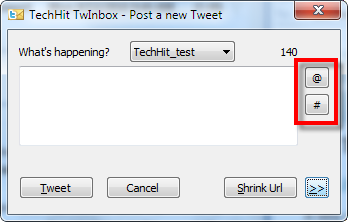 To select a recipient, click the "@" button. In the "Select a recipient" window, type a few characters of the person's name to select it, then click OK.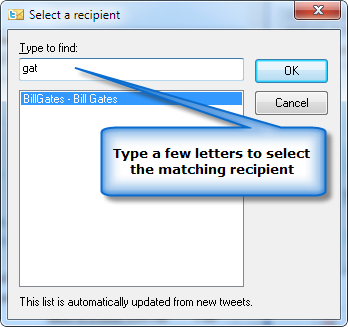 Selecting hashtags works in a very similar fashion.
Note: In order for a tweeter user to appear in the selection window, you have to have received a tweet from them after installing this new version. The same applies to hashtags. 
Sorting retweets into recipient folders
This version also includes a small change to the way tweets are sorted into recipient-based sub-folders. (Applies only if you enable that option). Now tweets are stored in the folder for the person who retweeted it, instead of the folder for the person who sent the original tweet. This change is a result of feedback of many of you who said that you would prefer this behavior. It will only create folders for the senders you follow.
Download TwInbox 2.0.1.111
We are looking forward to your feedback
As always, we are looking forward to hearing your feedback.  If you enjoy using TwInbox, please show your support by telling your friends about it. Thank you for your continued help and support in making TwInbox a success!
Do not forget to follow @TechHit to receive update notifications.
Do you have too many messages in your Inbox? Try SimplyFile  – Intelligent filing assistant for Microsoft Outlook.