Outlook has a hidden feature, QueryBuilder, which can be very useful for those of you who need to define complex criteria for Search Folders or Advanced Find. It allows you to specify a conditions on most message fields; combine multiple conditions with logical AND or OR operators; build hierarchical conditions, etc. For example, you can do things like this: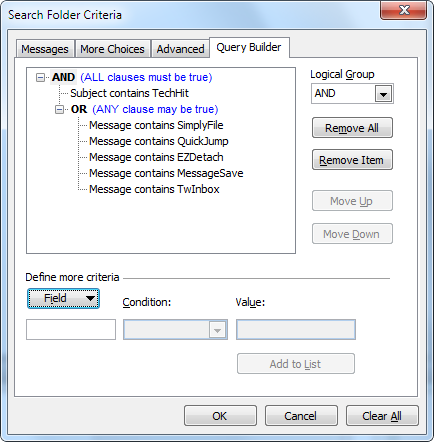 This Microsoft Knowledge Base article talks about how to enable Query Builder. Note, the article only mentions Outlook 98, 2000 and 2002. The same instructions will apply to all versions of Outlook. Use the following numbers in the registry path:
Outlook 98 – 8.0
Outlook 2000 – 9.0
Outlook 2002 – 10.0
Outlook 2003 – 11.0
Outlook 2007 – 12.0
Outlook 2010 – 14.0
Outlook 2013 – 15.0
Outlook 2016 – 16.0
Do not forget to restart Outlook for changes to take effect.
Do you have too many messages in your Inbox? Try SimplyFile  – Intelligent filing assistant for Microsoft Outlook.
.