PST and OST corruption – the root of most Outlook issues
A corrupted PST or OST file is one of the most common causes of problems with Outlook. If an Outlook mail file is corrupted, Outlook does not necessarily tell you about it. However, Outlook will start failing in random and unpredictable ways. From something relatively minor, like messages not turning read after you open them, to crashes, freezes and inability to launch Outlook. A large portion of our support requests have nothing to do with TechHit products, but are resolved by running scanpst to fix errors in the PST / OST file.
How to find scanpst on your computer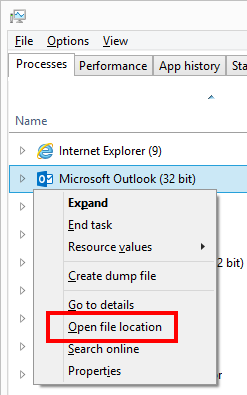 If you have Microsoft Office installed, you have scanpst.exe installed as well. It is located in the same folder as Outlook. Here is an easy way to find it:
Open the Task Manager.
Find Outlook on the Processes tab.
Right-click on Outlook and select "Open File Location". The screenshot on the right shows Windows 8. In Windows 7, "Open File Location" is the first command on the right-click menu.
You will see Windows Explorer open the folder in which Outlook is installed. Scanpst is located in the same folder.
IMPORTANT: you have to run scanpst repeatedly on every PST/OST file, until it tells you that there are no more errors in the file. You will find additional instructions in the first part of this article.
Microsoft knowledge base article about scanpst.
After you have fixed your email files, check out TechHit add-ins for Microsoft Outlook which will help you keep Outlook running in tip-top shape and save you an hour of time each and every week.
.